Check out the JH News and Guide's in-depth article about how TCMUN develops soft leadership skills in our local high school students.
Model U.N. develops soft skills of cooperation, compromise
Jackson students help run the conference, a rarity for similar conventions around the country.
Annika Peacock isn't the type to be unprepared.
The Jackson Hole High School junior prefers to be practiced and ready, but sometimes life takes a twist. On Nov. 11 Peacock was undersecretary of operations at the Model United Nations conference at the high school, meaning she was essentially planning and overseeing the bulk of the convention.
Then the Security Council chair fell ill, and at 8:30 a.m., without a chance to brush up on the issues, Peacock found herself taking on that mantle.
"I learned to just fake it," she said, "and it worked out really well, and it was a lot of fun."
Skills like that can be hard to come by in high school, where classes, assignments and schedules are strictly regimented, but at the Model U.N. conference students found themselves developing real-world abilities in just a few short days, in part because they run the entire convention. Being student run is unique in the Model U.N. world.
Higher education institutions like community colleges and universities host many conferences in other states. College students are the ones organizing the events, and the high school students are there simply as delegates, as the visiting schools were at the Jackson conference.
"When they are in charge, the depth of learning is far superior to having a community member run the show," Interconnections 21 Executive Director Lindsey Ehinger said. "You see that when we go to other conferences. They've seen how to run it from the chair's point of view, so they are better delegates."
Ehinger's organization is the backbone of the Jackson conference. The nonprofit started the conventions in 2006, when 72 students from Jackson schools attended, and they have grown in the years since, with nearly 200 students from 11 schools from across Idaho and Wyoming filing into classrooms at the high school to discuss global issues.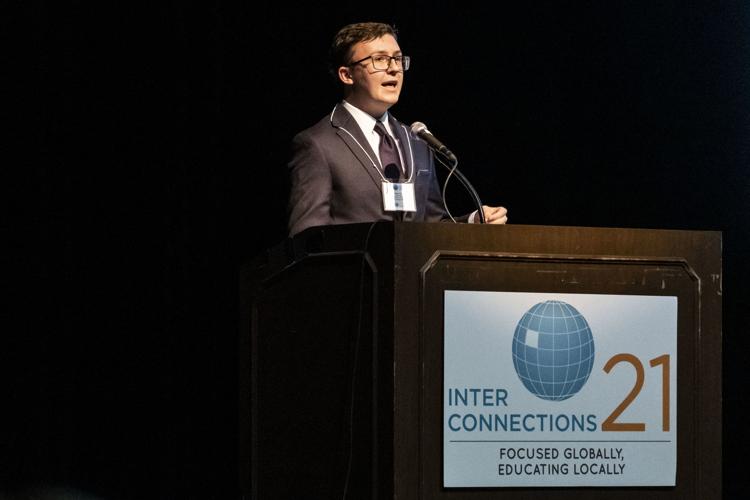 As executive director she prepared the background guides that delegates receive, and she works with students to master the arcane minutiae of parliamentary procedure.
"It was very tricky," said Olivia Roberts, who led the Human Rights Council, "because the way you have to talk is very intense."
Roberts and the other committee chairs met with Ehinger once over the summer to learn the basics, then a couple more times during the school year for practice committees. Then they had to do the same research as other students who are delegates to ensure they had a strong understanding of their topics.
Because the high school has run the conference for years, teacher Jeff Brazil said, organizers have the infrastructure to give students the space to learn leadership skills without overwhelming them.
"We just throw that to a kid now," Brazil said, "and they've got the framework and they've got past years built up."
Though positions like Peacock's or Secretary General Darcy Mueller's are the highest profile, students handle everything from recycling to providing food. Other than perhaps planning a birthday party or helping set up sports events, most haven't orchestrated anything on the scale of Model U.N.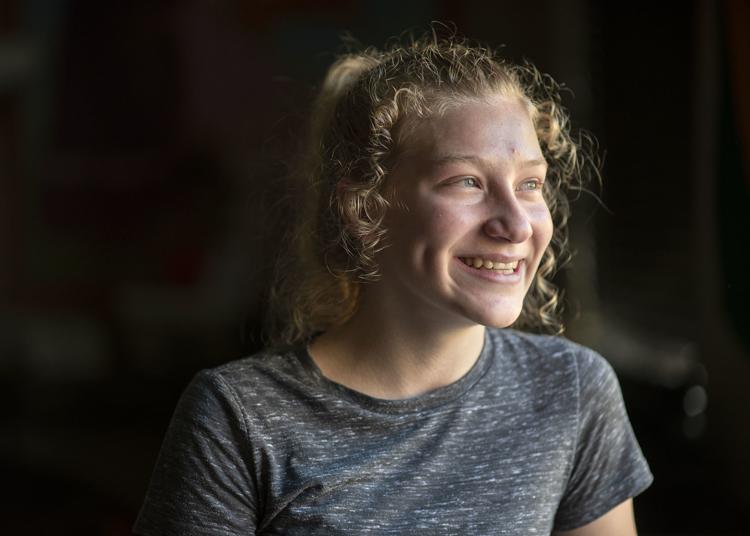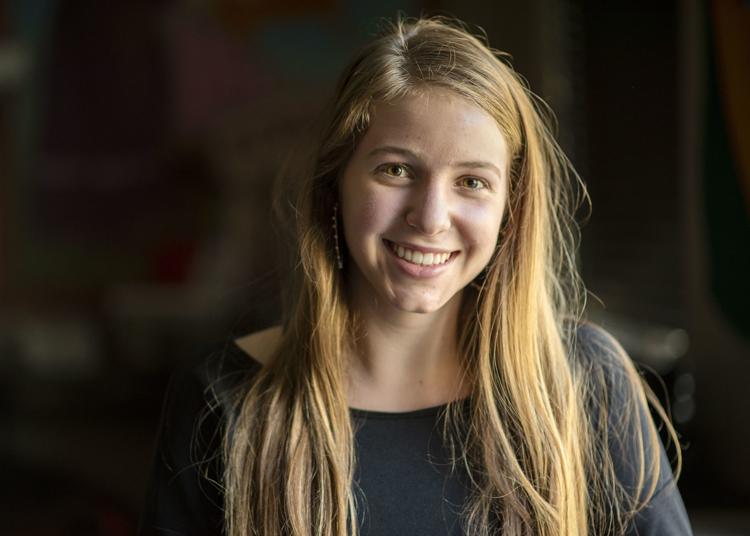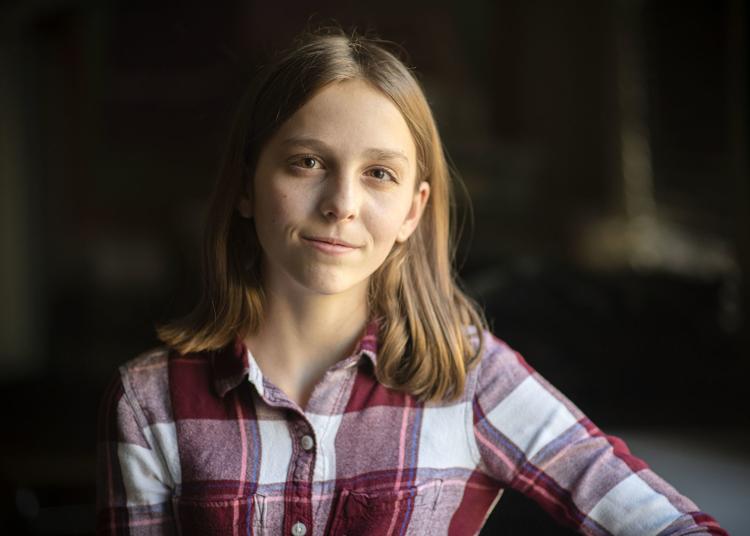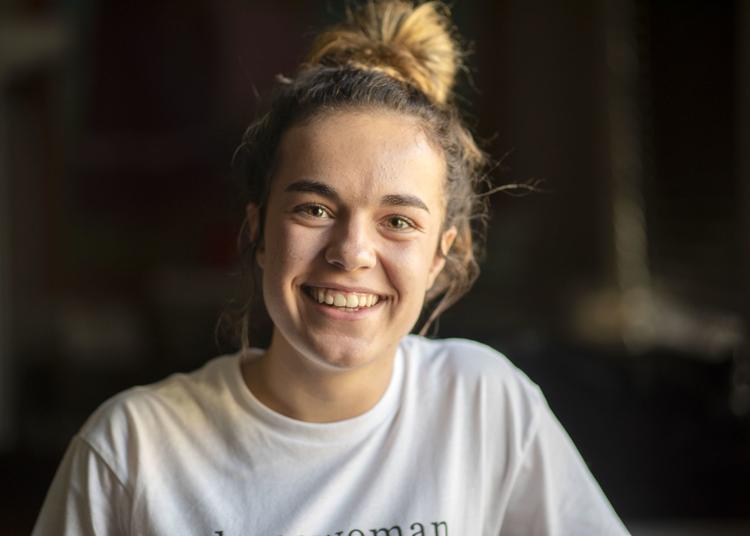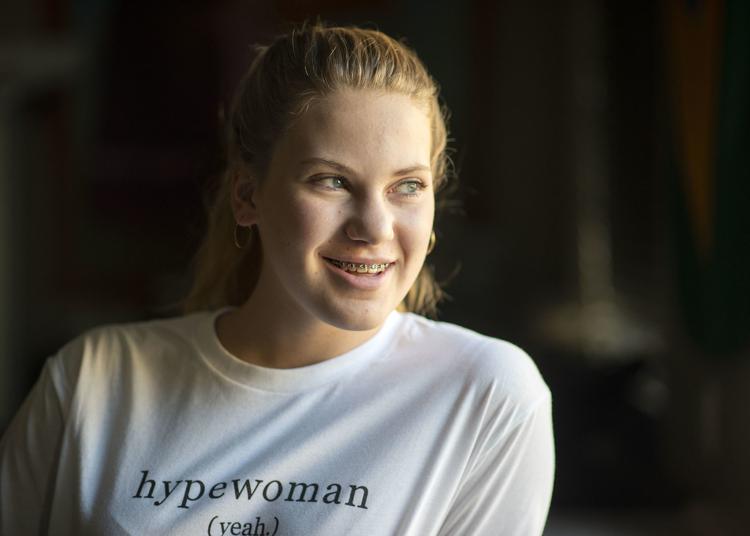 Junior KC MacLeod was in charge of feeding the roughly 250 people (delegates and adults) who descended on the high school. The food wasn't your standard cafeteria fare, with exotic foods like Jamaican cupcakes on the menu. MacLeod was also part of the team that helped the guests throughout the event.
"Trying to corral like 170 delegates into the right classes, in the right spots and then moving kids into their right classrooms was really hard," she said.
Not all Jackson students were running the show, but even those who were simply a part of the event felt the weight of being part of the hosting school.
"From the point of view of a delegate," sophomore Lydia Thiess said, "it was very intimidating at first."
Running a Model U.N. conference has an abundance of intrinsic benefits for the Jackson students, Ehinger said, but the extracurricular isn't sanctioned in the same way activities like sports are. Some state funding for extracurricular activities comes from the Wyoming High School Activities Association, but that comes with strings attached.
The association mandates that to receive funding a sport or activity must have a minimum number of events in a particular season (think weekly track meets, for example). With the amount of planning a conference takes, holding one every weekend or so around the state would require students to devote all their time to Model U.N.
With students engaged in so many sports and other activities, Ehinger said, it would be impossible to meet such stringent requirements because each school would have to put on a conference. Without that state funding and support, nonprofits like Interconnections 21 are crucial in putting the conventions on, and schools are left on their own to find funding.
Some, like Teton High School in Driggs, Idaho, use philanthropic funds and money from parents and students to send kids over Teton Pass. Ehinger wasn't sure how all the attending schools paid for the conference, but she said Jackson kids have a hand in sending themselves to far-flung conventions.
"When we take our team to national and international conferences, the students pay part," Ehinger said, "and then we do fundraising, raffles, things like that. I think it's a combination of cobbling it together."
Beyond the fundamental skills students develop by hosting the event, the art of being a delegate or committee chair imbues kids with what Brazil called "soft skills," which include researching and coming to a consensus. In a time when studies find more intransigence in politics, expanding their global knowledge carries weight for a generation approaching graduation.
Sophomore Virginia Girling represented the Democratic Republic of the Congo this year, writing a position paper on microplastics for the environmental committee. Girling won best delegate in her committee and best position paper. In researching her position paper she discovered that even though the D.R.C. doesn't have much oceanfront land, it has done a lot to fight marine microplastics and lower its environmental impact.
She wasn't previously knowledgeable about the intricacies of the African country's economy.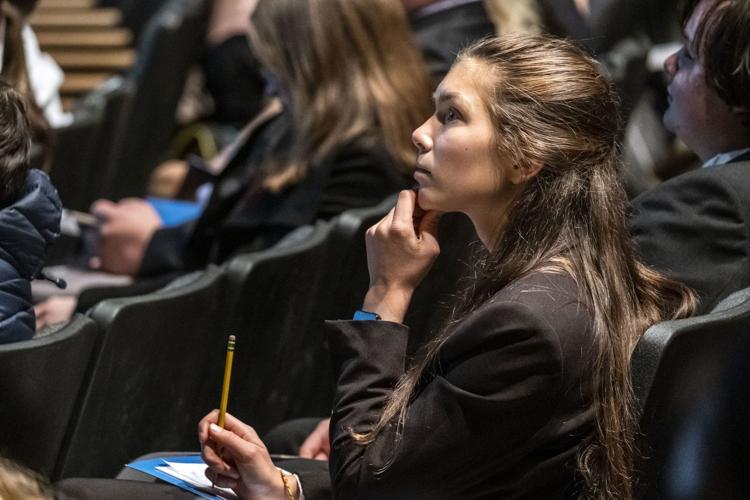 "To be honest, before I began Model United Nations," she said, "I had no idea where geographically the D.R.C. stood or where it stood on the political spectrum."
An expanded worldview does little if not accompanied by an ability to compromise and truly understand opposing views. The students consistently said that reaching consensus was one of the skills they valued most about participating in Model U.N.
Putting aside your own beliefs to inhabit the values of a country that may be diametrically opposed to you develops new perspectives, Macleod said, even though it may not ultimately change your mind.
"It's a really hard thing to like put aside some of what you think is morally right and argue for something that your country does," she said. "But it's a balance."
None of the students were ready to commit to a life of politics after the conference, but they said it gave them new skills and knowledge they otherwise would not have come by. Learning about North Korea's stance on human rights or the economies of South American countries were, of course, valuable, but they pointed to the soft skills as the real benefit of participating in Model U.N.
Like Peacock grabbing the reins of the Security Council on short notice, Thiess said that forcing herself into the spotlight is what she will take away from last week's conference. She's not usually the public-speaking type, but after two days of the conference, she stepped onto the stage during the final assembly in the auditorium.
"I actually ended up presenting in front of everyone who came to the conference and every single committee in the General Assembly," she said, "which was a huge leap out of my comfort zone.
"But it was really good for me."